Welcome to the Infidelity Tarot. This card reading is free and also looks at the question: Is he cheating?
Unfaithfulness is wrong but there is always a reason for it, if we are truly honest with ourselves.
And the first question to ask yourself and the infidelity tarot spread is can your heart forgive? As you are here, I am guessing that you are ready to understand him and are big-hearted enough to offer true forgiveness.
First of all, look at the infidelity tarot card that represents the answer energy to your question concerning betrayal tarot.
Further down you can ask questions directly and free of charge tarot reading answering: Is he cheating?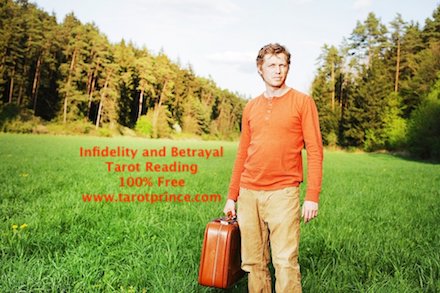 This online tarot card is specific to this topic and is therefore highly symbolic. Here we have a single male figure, singled-out, as the culprit or love cheat.
He is seen in some remote field hemmed in by an impregnable forest: now was your man feeling trapped?
Ask yourself this – had I somehow constrained his freedom or masculinity?
This is not about apportioning blame but about finding legitimate reasons why a person often looks outside of their marriage or courtship.
Now in this image this natural environment has another interpretation. The evergreen forest suggests an everlasting love despite this setback.
The trees do not die here. Look at him. Isn't this man feeling exposed and more than a little lost?
He is rumpled and dishvelled and seems genuinely sorry. The suitcase representing a major fact in this betrayal Tarot Reading is symbolic of him feeling perhaps unsettled and not welcome in the home.
Sometimes a new baby can make a man feel this way, or a constant third party being around with no alone time for him. Men are big babies at heart and need a lot of attention.
The card also says to get back to nature.
Go away somewhere quiet, just the two of you, to get back to the basics, to figure out why you are together and if what brought you together is still a good reason in and of itself to remain in this relationship. 
If you are unable to overlook his betrayal then you both must look to the future, not the past. The suitcase here means 'move on'. Or if you are angry but feel unsure, time apart is healthy.
But ask yourself this first: am I pushing him away even further just to make room for her takeover? Is 'she' worth losing 'him'?
It is in large part about balance – weighing up your own fault, your own ego and the level of duplicity involved and for how long.
Look again at this infidelity tarot card and you cannot miss the color orange. It is a significant choice as it is an unusual color, used the least by clothes designers.
So why do we have this complex, polarizing orange?
It certainly invokes a love-it or hate-it reaction. So are there reasons why we have such a powerful reaction to it?
Is he lying to me Tarot? Info here.
Well, yes, there are some negative associations: it is associated in the natural world with danger, such as bees, ants, snakes and spiders. But in our spiritual world, too, there is an orange Chakra color.
These energy centers within our bodies help regulate all its procedures. Thus each chakra controls certain functions and is denoted by one of seven hues.
Orange is the color of the Sacral chakra, or "Svadhisthana" which is located underneath the belly-button, close to the important organs.
Perhaps you are also asking yourself: Is He seeing another woman? Then we have the right information for you here.
Use the "Is He seeing someone else Tarot Spread". Especially if you feel betrayed.
If this chakra is opened, it will free fertility and creativity as it stimulates our intensity. This is fascinating when seen in context with your dilemma.
So this other woman has opened this chakra. He can close it again. The question is whether you will still want him after he has put in the work.
It will certainly take enormous effort and deep understanding from both of you.
Do we have a future together Tarot here.
To really forgive, you have to grow as a person: this is no bad thing and to every negative situation, a positive grows out of it.
The conclusion from this free tarot reading around the question of whether he is cheating on you is: The betrayal tarot does not establish who is to blame.
More free Info for you: Is my Relationship over Tarot?
It is about your attitude towards life. The infidelity tarot asks questions of you. You decide what you want in your life and what you don't want.