Where is the relationship going?
Free Tarot Reading and Card Prediction.
update: Aug 27, 2023
For Entertainment only.
Plus Information: How to ask y? Should I even ask him?
Wow! This is a wonderful How will the Relationship go tarot card! Congratulations. This has a powerful psychic message.
Now as the querent, 'you' will be represented by the lady here. This is an oracle card and thus highly symbolic.
Just have a deep look at your Card down below. Then follow the words of your free reading.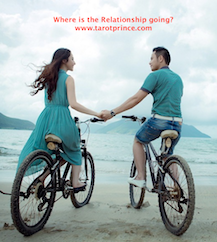 Now first off, you will need to place yourself in the right mind-set. This means being totally relaxed, as well as emptying your mind of any urgent, pressing thoughts.
It is very important that your intention is pure-hearted and not mean-spirited as such negative, destructive emotions can blur the reading.
So, you want to see into your relationship's future.
This is totally understandable as nobody wishes to waste their precious time on a non-starter. This card of your free relationship tarot reading is actually very positive in its outcome. Overall, it is a balanced image.
But it is not in total alignment, even a little off centre, veering more heavily towards the left-hand side (of the brain). 
Just simply ask as you seem to be in a good connection mode. This means that communication is strong between you as the left side is concerned with language.
Clearly, the two central figures seem well matched.
Should I ask? Yes!
There is a harmony about this couple.
You are in sync - right down to the color you are wearing. Interestingly, you are both sitting on bikes, in the saddle, not half on-half off. So what is the 'saddle' in this context?
It means that you are fully committed. Note how neither of you has a foot on the ground seeking extra support because you doubt his love or even your own feelings. No, this is a clear message of trust.
In fact, you are only able to balance without bike-stands by clasping each other's hands. You offer each other the support that you need. This is a healthy partnership.
Now your original question asks 'where' you are going in your relationship. You are on a mode of transportation so you clearly will be traveling somewhere together.
You are growing impatient because your wishes are not coming true... because your partner is testing your patience... that can happen. But it is essential that you remain calm and serene right now. Read more about patience in relationships in this free tarot reading. 
The image of the tarot card suggests a journey, may be a holiday, or longer term travel. Your auras are a blend of blue and green.
More Info in your "Does he love me Tarot Spread" here.
This suggests that you are a grounded, hard-working couple who are lovers of nature and also, remember, that a couple who exercises together is usually a dynamic match! 
Green auras build the auric color spectrum; thus they welcome personal development. The negative side is that you may be prone to jealousy and also become overly competitive. 
Now for the blue aura: those with this color aura are deeply sensitive and emotional, but you are self-expressive and this means that problems are discussed openly. 
What do you need to work on? As you can see, you are going places and you trust each other implicitly.
If anything, you can be a little too wrapped up in yourselves, so be aware of what is going on around you more. Where is the relationship going?
For the tarot card shows that the bikes are heading straight for the sea, you seem to have lost your sense of direction as you are lost in the moment.
Love is a wonderful emotion but remember that no one loves in a vacuum and the world around us still continues.
There are mountains in the distance meaning that there will be some hills to climb or problems to overcome up ahead of you but for those who truly love, nothing is insurmountable. Keep relying on one another for support.
The water is calm, a good omen, and it is obviously your element as you were drawn towards it and you are even wearing the sea's color. Water is connected to our emotions and to our intuition, too. 
Conclusion of this Tarot Reading and Card prediction referring to your question: Where is our relationship going. 
Know more about what are you looking for in a relationship.
In other words, you can trust your own and relax knowing that you will enjoy something warm, well-balanced, nurturing and energizing.