Welcome to an accurate answer to the question: Who is Scorpio Soulmate.
In a free tarot reading, you'll learn who best matches this zodiac sign on a soul level.
For Entertainment only. 
Using real life examples, you'll learn how you can live a happy life together. 
These are the 3 Signs that fit best and are the best Soulmates for Scorpio.
Scorpio, no doubt, is a complex sign and even feared or adored by other signs.
Interestingly, in tarot it also has this reputation: Death is its card.
However, this is actually denoting the deep transformation linked to it and likewise the search for new horizons.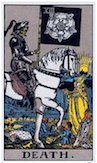 Correspondingly, this zodiac sign is the symbol of change and renewal.
In fact, you  are different in that you are unafraid to speak the truth and to seek far beneath the surface of things.
Many signs fear change and thus you will need a bold partner.
Best insights and more here in your online and free Soulmate Psychic Reading.
The first card is another Death card! 
So, what does this doubly 'feared' card mean in terms of relationships and love? Well, one interpretation cites a desire to break free from the status quo.
Scorpio and Scorpio are two like minds who enjoy risk.
Yet despite desiring a supercharged love, as they find trust difficult, only another sign of the same kind appeases these love-terrors.
This is a potent twin-flame union as together you can experience it all.
Two Scorpio empaths can create a cathartic relationship, or, a disaster in the making if they become adversaries. This sign can be competitive with their partners.
You must avoid this situation from the off by developing a nurturing chemistry because underneath it all, you two do understand each other implicitly.
Accurate Scorpio Tarot plus detailed answer for free here.
The 2nd card drawn as a possible love-match is The Hierophant of Tarot, or Taurus in Astrology.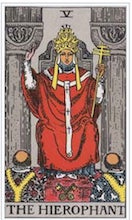 Now in your reading, this priest symbolizes traditional love-relationships, where the deepest commitment is your reward.
Should the Hierophant show up when you are single, it's merely a sign that someone you know likes you.
Those represented by the Hierophant tend to be always looking for life's meaning.
This will be a spiritually rich union.
The upright Hierophant's love message points to a more conventional relationship: safe, traditional, and loved also by family members.
Thus a more spiritual love is on the cards - no drama, no fireworks, just a sincere understanding leading to marriage.
Best free psychic reading for Scorpio answers your questions now here.
This is perfect for more mature matches where sharing a system of beliefs has become important.
This is represented in the tarot deck by the Chariot.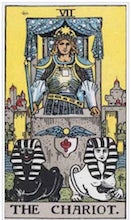 Its meaning here is that you two will have to conquer your mistrust to forge a successful relationship.
However, a Scorpio-Cancer coupling is one of the most intense and emotional.
This could be a match made in heaven as your similarities and values create a magnetic attraction, but all that chemistry and allure has a price.
You must put in the hard work to resolve the mistrust.
This issue only escalates with so much passion between you so it is crucial to get this under control.
The Chariot tarot card influence represents an innate requirement to balance your mind using logic.
This logic can be used positively as a rationale to get around Scorpio's defenses and suspicions. Do you want this kind of volatility?
Maybe if you are young, this explosive pairing may hold some attraction but be sure to use reason early on to scupper the deadly Scorpion jealousy!
So, who is a Scorpio's soulmate? Well, now you know.