You are a wonderful being with a burning question.
When will I find true love? Who is he?
Will I find true love?
This free reading will give you an accurate answer. 
Congratulations on selecting this fortuitous love tarot spread.
As you can see, your accurate love reading will be based upon the card before you which is loaded with deep symbolism and psychic energy.
This romantic tarot card will help you steer your relationship life in a better direction.
Take a quick look at your love tarot card now.
It is a new design by our team here at tarotprince.com
It will be interpreted for you in a moment.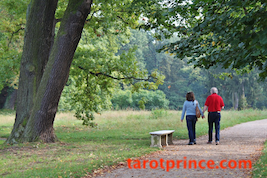 Now before you read through and get your accurate tarot reading about finding true love for free here, you could do the following short preparation.
Empty your mind of all negative thoughts. Just a second.
This takes true focus and you must not be disturbed or be worried that you will be. Your mind should be a blank, a clean slate, and your intentions should be as pure as possible.
Is other on-off relationship hanging about your shoulders to muddy the waters?
For a good love tarot reading asking if you are about to find the love of your life, you should be free to enter a relationship and emotionally ready.
Major embittered emotional baggage from the relationship prior could affect your chances of finding true love.
However, if you are unhappy in an existing relationship, you will also be able to take away many important pointers from the reading. Please read on. Some great predictions are waiting for you.
Look at this card very carefully. What do you see? To really become in tune with the subliminal meanings, you need to imagine yourself there, in the moment, in this scene. 
Breathe deeply and slowly, relax your shoulders, and let this other world become yours in this tarot reading. What do you see?
Will I ever experience a real and true love?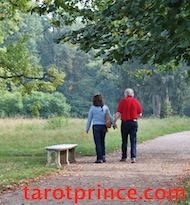 You are forming part of a couple. The male is noticeably wearing red: this is a color denoting passion and the profoundest feelings we are capable of.
What does that tell you?
You have the power to attract that deepest level of commitment from a loving partner.
Now look at the female figure here, 'you'; you are wearing blue which is a cold color. Are you really ready for a committed relationship and to open your heart?
You have both just passed a bench, maybe you had a pause or a break from someone and are ready to move forward again.
Or maybe you need to take a break from your current situation as you may feel he is too intense and you need time to catch up.
Are you facing a decision? Do you want to know the odds that another person will do something (for example, give you a call)?
It is late summer (energetically) and some leaves have already fallen. This suggests that it will be a mature love as autumn is where the harvest is brought in and all your hard work finally begins to pay off.
There is also a hint that your ideal partner should be older and wiser than you. Some people seek stability and security, especially if their past is full of hurt and pain.
This love tarot spread suggests a nurturing relationship, not a stormy, intoxicating feeling, but something more organic and naturally evolving over time.
Remember that your destiny develops anew with every step you take. Here you have space around you both so you can see what is up ahead.
You also have a clear path to follow in the love card.
This is a straightforward destiny. But, you have a tendency to stray off that path a little so may be it is time to trust yourself and a man again. Let him guide you. 
Have you fallen in love with someone but you are unsure what he is thinking?
So don't be scared. You appear to be holding back here but know that he is there beside you for the distance so act confidently.
The right man will be someone that has many things in common with you and you can see this by your attire: you are wearing the same style and color trousers here: symbolically, this is showing how similar you are.
This is a true sign of compatibility. 
Lastly, note the two huge trees (oaks) to your left: these seem to have grown from one acorn.
Their roots are deeply entwined as will your souls be.
More about compatibility in a free Astrology Love Tarot Reading.
The right one may even be a close friend or someone who knows you very well over a number of years.
Come back to your "Will I find true love tarot spread" whenever you need another accurate and free love tarot reading online here.
Your daily love predictions tarot spread here.
Keep your eyes open and you will be ready whenever it will happen.