Here you'll find out the exact answer: Who is Pisces Soulmate?
For Entertainment only.
Which sign goes best together with this sign?
Get a free and accurate Pisces Tarot Reading with real life examples for your beautiful life as a couple. 
This is the ranking of the 3 best soulmates for pisces. 
So, Pisces in the Tarot deck is the mysterious Moon card. This sign is both mystical and idealistic, by nature.
The Moon reflects your uncanny ability to use your instinct and intuition, for Pisces is an intuit.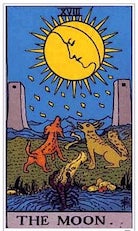 Now the 1st card is another Moon card but reversed.
So this normally compatible lover can bring a lack of balance into the relationship.
You will have to make your Piscean partner feel valued and work towards the same things or they may feel uncertain and, worse, insecure.
Remember this, even if your relationship seems fine to the outside world, The Moon reveals when things are not quite as perfect as they seem.
Pisces Moons are tender and also sentimental, but in reverse they can become oversensitive. Romance and love are all very well but fairy tales are only in books.
You may have to gently bring your Pisces lover down to earth.
It's okay being a hopeless romantic but the cards are warning you that this coupling might be more about them loving being in love, rather than seeing the reality of life's ups and downs.
To get more insights get your Soulmate Psychic Reading here.
The 2nd card drawn is The Hermit, this is represented by the star sign Virgo.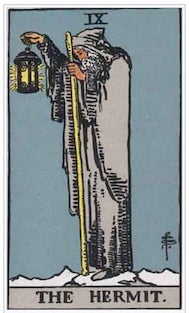 This tarot card has a compelling force of insight, a spiritual nature and seeks inner knowledge. In the tarot deck, we usually see an old, wise man carrying the lamp of enlightenment.
Interestingly, Virgo, is a person at complete ease with themselves, pondering perfection.
They have a deep connection to their identity and truly know themselves.
You two are a good match as you can bond strongly. These zodiac signs respect each other.
Moons are perceptive and compassionate. Hermits are perfectionists and fastidious, yet, in this case, opposites do attract.
Finally, the 3rd tarot card drawn is the Justice card, however, it is reversed.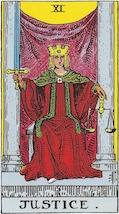 So what you normally expect from this match with Libra may now differ. You may search for love but feel luck is just not with you.
However, Justice reversed can mean that you are not ready for the final soul connection yet.
This is due to your past relationships not allowing you to move forward; if you do, you may repeat the same mistakes.
If you have erred, you still have a choice to make things right as no one has noticed yet. Declaring your faults will help you heal.
Libra and Pisces are compatible as soulmates but you must start on an honest footing. Also balance is crucial here: balancing work and pleasure.
You both value your relationships and share similar hobbies, but you need to leave your exes behind you.
Normally you would be transparent and open with one another, with the Hermit reversed, this is essential as he is the truth seeker.
You could make a perfect pairing once you have solved your attachment to the past; explain all to your Libran lover as mutual understanding is the only fertile ground.
Now you know who the ideal Pisces Soulmates are.