Welcome to the reading of your "Is he seeing someone else Tarot Reading".
This spread takes a deeper look into this yes or no question.
This is a heart-breaking love question to ever have to be asking yourself.
But unfortunately it is one of the most common when you are in a relationship.
There is another question that you may need to focus on here: Are relationships that leave us in a state of doubt ever good for us?
Is he seeing and talking to someone else? Your Tarot Card has an answer. Look closely. What do you see?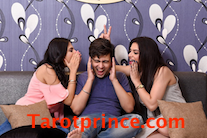 We have two women seemingly teasing and harassing the man in-between them.
The fact that he is in the middle could suggest that this is a more complicated kind of adult game where their relationship has become complex and physically charged.
Is your lover being overly familiar with another woman? Or do you always suspect your partners because of how your father behaved with your mother or with you as a child?
Abandonment or divorce can leave life-long scars.
Now know that it could be totally innocent: jealousy is not called the 'evil green-eyed monster' for nothing.
Men and women have many types of friendships outside of their life-partner. We meet all sorts of people every day at work, at the gym, online, out for a walk, on a flight etc.
No man is an island: we are human, we interact, it's what we do and it's perfectly normal.
But what does this card tell us? Well, the woman on the left is whispering something and it is something he isn't ready to hear.
The woman on the right is gesturing above his head with two fingers and while this seems like innocent fun and probably is just a way to say lighten up, it could be construed as a 'cuckold' symbol.
In other cultures this means that 'she' and not he has been playing away from home.
This card could also be seen as not two different women in his life but 1) different aspects of the same woman, or, 2) the women have been having a secret affair. There are multiple interpretations possible here.
One thing is for sure, that the man is being pushed to the end of his tether and may just explode! 
Check your options with a quick Latin Tarot Card Reading and Divination right now. 
If you suspect him of seeing and talking to someone else, this card seems to suggest that he is innocent of any wrongdoing and that he just wants some peace and quiet.
As the jealousy, accusations, games or constant female company are not giving him any time to himself, to think straight.
You know the old saying: 'two's company but three's a crowd!' If you always have a friend over or a sister there in the background, this card is a warning. He wants you to himself occasionally.
For in fact, though this image appears comedic, if you look closer, his silent scream is like Edvard Munch's painting.
The humor suddenly disappears. Therefore, this could also be suggesting that you may like to joke around a lot but it is possible for you to go too far. Is it a yes or no? Not all men want to be hen-pecked.
Want to know more? Get your accurate Soulmate Tarot Spread and instant reading now.
It seems that despite the levity of this card, it is in fact a call to you to sit down with your partner and ask him how he is, how he is really.
Get more free answers by an accurate yes or no tarot spread now.
It is crucial to maintain a close bond and it is not simply a 'given' but needs hard work and private space to create this shared intimacy. 
Lastly a point to note - do not discuss private matters ever in front of a third party as this is the death of true connectivity, it is a sort of betrayal instead.
Not sure what to do? Then pick your One Card Tarot in an online reading. It will give you the accuracy you need right now. 
So love your man unconditionally and try to give him the space he needs. Jokes have their place but, if overdone, can also undermine closeness.