Welcome to your "When will I find true Love Tarot Spread".
Congratulations on choosing this question.
This tarot spread and its card imagery will try to answer your question.
As the querent or seeker of arcane knowledge about your future, 'you' will identify with the female figure depicted here. 
Just take a look at the tarot card that your Tarotprince has redesigned for you.
It has many answers for you.
Right here below you will learn what secrets the reading holds for you.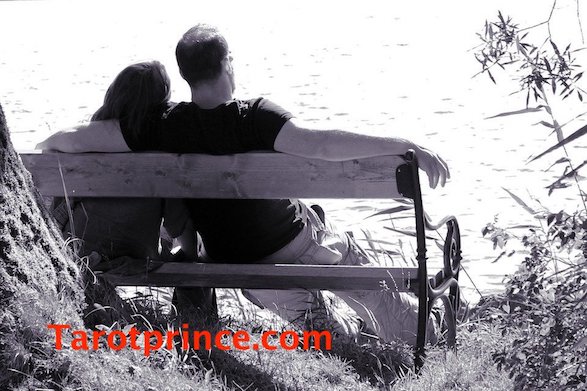 Firstly, please try to be relaxed fully and try to empty your head of anything negative: this is a love tarot card and so hate and revenge should not be in your heart.
Confused tarot readings occur when the recipient is sending out mixed messages of wanting love but distrusting all men.
So are you ready? Relax, find somewhere quiet, induce a meditative state whilst gazing into this psychic tarot card of love and relationship. 
Let's go. Now time related questions are notoriously difficult because there are so many different time-frames worldwide and time moves slowly when you are younger and rapidly as you age or are in love.
In other words, 'when' is not possible to pinpoint in everyday and accurate terms.
However, that said there are a few interesting markers here.
Firstly, you are sitting surrounded by the eternal element of Water.
This calm water is represented by the color blue: this is the color of truth. It is symbolic of fluidity and movement. Yet here you both are relaxing in the moment.
The sun is very low on the water in front of you so this love is up ahead, not behind you, but it is suggesting that you will find true love later in the day. Which is a hint on "when will I find a true loving partner".
For an even more accurate answer you could ask cheap love psychics.
It most probably will be a healing and cleansing relationship. Water is a feminine element and its overwhelming presence means that it will be a man who understands you and worth the wait.
Water also denotes the subtlety of female power which is adaptable, receptive, and patient. As you know, in the cartomancy wisdom of a Free Love Tarot Reading, water relates to the Suit of Cups.
This is the emotional tarot-card and those who attract it have a high level of consciousness and form powerful connections.
When will I find the true love of my life? This accurate Tarot spread is about you and your timing
This deep love will have that satisfying feeling that you experience at the end of a long walk when you finally sit down and watch the sunset.
He will be protective, a real rock in your life, like that stability of the huge tree at the base of where you are sitting.
His presence will be large - look how he fills the bench beside you. 
You will know when the time is right to settle, it is different for all of us. This will be done once and done right.
Maybe you've already fallen in love with someone. Thinking about a very specific man. However, you are not sure: Does he like me? Does he actually have feelings for me? Does he love me too?
'When' is also related to when you are really ready to take it easy as commitment does reign in your freedoms.
As the water here reaches right to your feet, it is a symbolic reminder of how restrictive true love can sometimes be.
In other words, it will happen when you are truly ready for it but perhaps your inner psyche already is aware of the limiting aspects of relationships on a more independent soul.
The image of this love tarot card suggests that you must be careful what you wish for as you will attract an all-consuming type of partnership so the 'when' is very much your choice.
Your Soulmate Tarot Spread Reading here.
Don't feel pressured to be ready sooner than you really are. 
If you wish you could make use of free love spells that work fast over night. 
Please listen to your heart if you are really ready for it. 
Love is a compromise after all and does not have a set timer: for some it is their all-consuming desire to become mothers as early as possible but such rashness often means they end up alone.
Think about if you really are ready for what you seek and don't be pushed into speeding up the process: it is solely in your hands and power.
Therefore, once again the encouraging advice of this tarot spread: If you ask when will I find my true love, then you are the one who has that in hand.
Do not put pressure on yourself. But allow the wonders of life to happen. 
Why not asking another Free Psychic Question on Love and Relationship.
Are you unsure if it will ever work out?
Will I ever find the true love tarot?
Do you want to do something about it effectively right away? A little help so that something happens? Then use the powerful and effective love spells. They also work very well with your ex lover.
Sometimes there are results overnight. Find our about it in your daily love tarot online here.
This supports the power of your "When will I find true Love Tarot Spread".
By preparing yourself well for a tarot card reading, you will help accuracy and in-depth results increasing by more than 50%. More about this very important best tips on how to prepare for a good tarot spread reading here.