You drew Princess Pranoa's mysterious Card.
This is no coincidence. This is your destiny. Are you ready to hear more?
For Entertainment only.
Part of our Free Tarot Reading Service.
Open up your mind to her advice by counting to ten. 
Now, are you ready?
She is your psychic reading angel today and she is right there beside you. Listen to her through the cards. Be open to her advice.
In your interpretation, she tells you: Now is the right time!
When and how long does something last? Your answers is waiting down here.
Ask a yes-no question to the Tarot and you will get an answer here.
But before you continue reading, take a good look at the picture. Look long and hard and try to absorb the image in your mind. Slowing down your breathing and touching your temples for maximum concentration.
What touches your heart?
What do you find strange?
The message of the Tarot Prince goes deep into your heart's secrets.
Let yourself be touched by the deeper inner meaning and feel this moment.
I will explain the exact implication of your tarot card below.
You will learn secrets about your partner and yourself that you always wanted to know.
Be curious and read it carefully.
No, I mean read it and re-read it again, very carefully.
Now first look at this wonderful tarot card from the princess.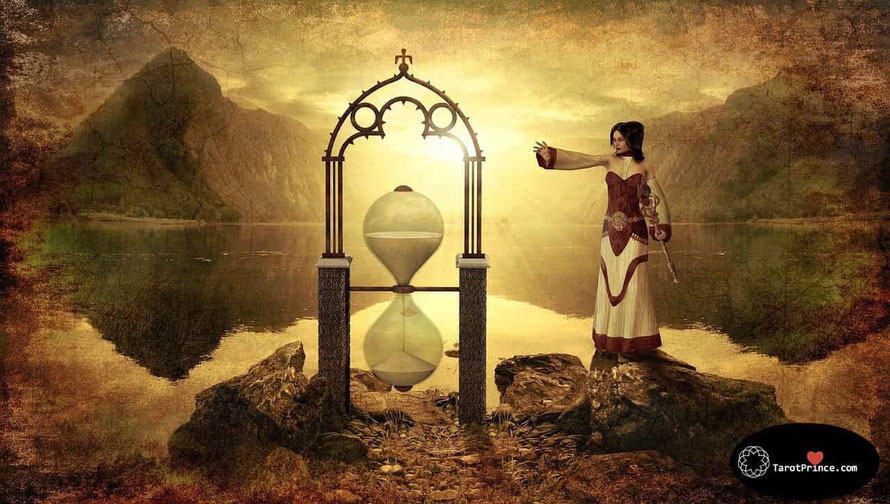 The healing rays of the sun will dissolve all your sorrow. Soon!
Soon you can be free from whatever is troubling you and making you anxious.
Let it penetrate deep into your heart. Breathe again very slowly: In-Out In-Out. 
There is much to suggest, however, from the present psychic energies I perceive, that the answer is more likely to be a "yes".
But it is crucial to keep in mind that these energies are merely reflective of the present moment.
Living is a constant flow and everything can change in an instant - every choice, every thought has the power to shape reality and influence the future course of things.
It is always wise to stay in the here and now and be aware of the endless potential.
What does this mean for you and your fate?
The princess of psychic reading says to you: the right time is now!
What concrete situation is worrying you at the moment?
Are you under stress in the relationship or from an ex-partner?
Is everything going too slowly?
Are things not going the way you want them to go? 
This aspect of the princess card shows you that you seem to have a question about "time". Think carefully: is this true?
Maybe you want to know these answers from the tarot:
When will my ex-partner come back?
Will he come back to me, or call me?
When will I find the right partner?
Do you blame yourself for always making the wrong decisions at the wrong time and in the wrong place?
You may have had bad luck with men. Don't put yourself down over it. We all have at some point.
Don't let others tell you what's good for you. You can decide for yourself. Because you are a being guided and protected by devine powers. 
They guide and accompany you. Even on days when worries and fears oppress you. 
The right time for You is now. Your dreams can come true.
With every step you take, you can be sure that Princess Pranoa will be right there beside you and help to guide you.
Even if you do not feel her presence, be assured that she is right by
your side.
There really is  light at the end of the tunnel. 
Your heart will feel love and harmony again.
Believe in the power of eternal wisdom!
Your deep longing and innermost desires  can come true.
Please be nice to yourself. Just as you are with other people. So don't be too hard on yourself. Self-love is not egoism. 
The ancient art of interpreting tarot cards is a wonderful source of higher wisdom.
More clarity and accurate answers.
Completely free online now.  
Princess Pranoa lets you know you're on the right track.
What help can you expect from the Tarot Princess Pranoa?
Now pay close attention: This area of the card reading with the Tarot Prince Arthur de Angelis indicates events that have happened recently or will happen very soon.
It refers to things that have happened and will affect you now or in the near future.
The interpretation of reading tarot cards is a wonderful thing.
You may be unsure if this whole thing is still worthwhile.
Follow your heart's inner voice, then happiness will follow but also keep your eyes open. With each step, your path becomes clearer and clearer.
Stay positive, even if it is sometimes difficult.  
She will guide you. 
The challenges in your relationship need all your strength and attention.
But no problem is too big that it cannot be overcome. 
Princess Pranoa will give you loving powers to lead you to new shores at the right time.
Time is of the essence. 
Do you want to find out more about your future by reading the cards?
Open your heart and mind wide for the loving advice of the princess cards.
Slowly read and re-read the interpretation of your future with your personal card reading. And remember, dreams can come true!
Using tools like tarot, psychic readings offer profound insight. They unveil the mysteries and show you what's hidden beneath the surface. With such insight, your decision-making is enhanced. It brings clarity and makes choices easier.
Make use of the following offers:
In general, this princess tells you that the subject of relationships is becoming more important to you.
You long for something deeper; you want more security and safety.
While this is only natural, be careful not to ask too much of others.
Especially from the object of your
affection. 
There's a danger now that you want too much in too short a time. Patience is everything.
Now is not the time for pressure and forcing decisions.
This means that not only should you be patient BUT you should use your female intuition differently.
Ask your heart if this relationship is really worth it.
May be it is time for a relationship assessment?
Let him know what you need without cornering him. He'll understand what you want.
Then watch his reaction.
Patience = self-control and understanding.
Does he want more from you?
Is his attention focused solely on you?
Is your time together really satisfying?
Or are you building castles in the air?
If you've waited too long for a sign of life from him, address it now.
You are stronger than you realise.
Is his love real?
Or is he just playing with you?
If he doesn't call or if you're waiting for your ex-partner, get active. 

 
May be you need to let them come to you or walk away. Be clear in your own mind what you expect from a good relationship. Look at others around you to see what makes them work.
Don't forget that reliability and helping each other is very important.
Demand it from the beginning. 
It brings little comfort if you waste your time now waiting for these things to develop. 
If you are looking for a new love, the energy is favourable now.
Socialise more with people or a new crowd, plus you can  search online, the chances are that you will meet someone.
Enjoy reading love stories with cheerful endings? A terrific story for you here: As Tarot Love Reading saved a summer love affair and hearts found each other. Read here.
But remember, it will be some time before this relationship deepens. Everything worth while needs time.
You can do pursue love and a relationship right now.
It is no coincidence that you have just drawn this particular tarot card.
Follow the loving advice of Princess Pranoa.
Be inspired by her picture.
Take the time to look at every small detail; study her.
As in life, take this time to slow down, relax and take a long hard look. 
Her power is your power, too.
She is with you, supporting you.
You can always come back here and ask the princess cards for more answers and advice.
Do you have any more questions?
Remember this - there´s a good energy today for your deep reading.
There is free tarot with free minutes on the phone which offers you security.
Some insightful advice from the psychic will definitely do you good.
This is without registration.
With best wishes for you, the Tarot Prince and your Princess Pranoa.
Find out more about the secrets of your Life.
Click on one of the Cards below for your Free Tarot Card Reading.
Your love life will be bright and warm.