The Princess Nindera tarot card has been interpreted just for you.
For Entertainment only.
Part of our Free Tarot Card Reading Service.
It's no coincidence you drew the Nindera tarot card as you will see when you read your tarot prediction.
Destiny played a part. 
Nindera is your angel today but she wants to warn you: Be careful!
Don't make any quick decisions now. Whatever you do, please guard
your heart and check well who you give it to.
If you have a yes-no question for the Tarot, then you will also receive an answer here. 
Afterall, the heart is our greatest gift of all.
Look at the card down here.
• What do you like?
• What reminds you of your situation?
You're a strong woman and a queen at heart.
Now, however, caution is called for.
Beware how you give your love.
Below is the card, where you will find an honest interpretation for you personally.
Read carefully and see how accurate it actually is!
Here now is your wonderful future and its hidden secrets are waiting.
• What do you feel when you see the princess so lonely on the dark road?
• Is that how you're feeling? Are you also feeling alone and isolated?
Look at this picture, it is important to really feel it inside with your heart.
Stop and concentrate. Now focus on it and see it in your mind's eye.
I'll show you its meaning for you right below.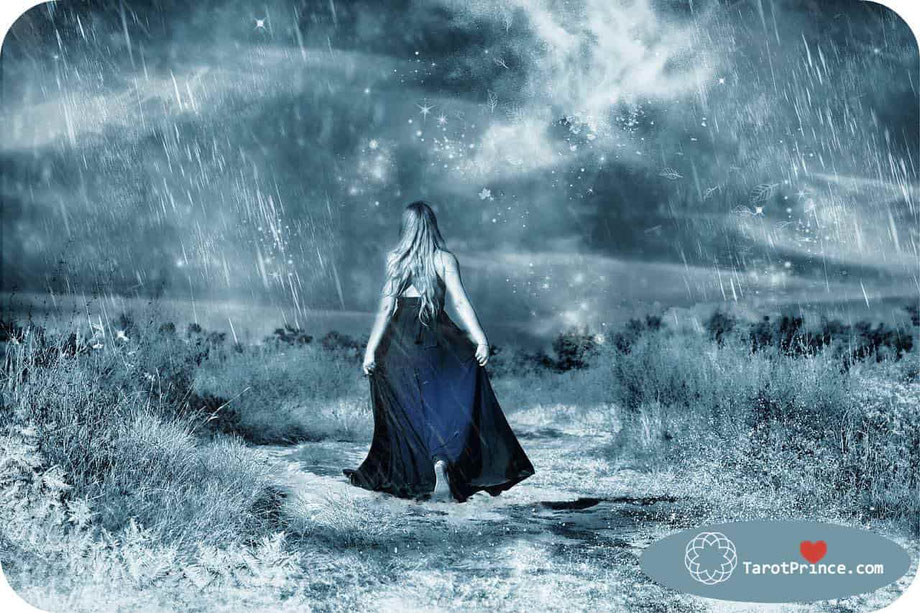 The best path to your dreams.
You are a strong and attractive woman.
After careful consideration of the current psychic energies regarding your question, I tend to lean slightly towards "yes".
However, it is important to stress that this is only a snapshot. The universe is constantly in motion and our reality changes with every decision and thought.
Even the most subtle energy flows can be influenced, as every decision and thought you or someone around you makes can affect the current and future situation.
Ask the free cards to learn more about your fate and overcome love's sorrow. She can help with your pain and your unanswered questions.
Is he coming back?
Does he love me?
You must face the truth and be careful and gentle with yourself. This is the most important meaning of this tarot card for you.
Maybe deep inside you already know how the future will develop in your love-life and your relationship.
But you don't really want to believe this. Too much has gone wrong and you're under emotional stress. You've already improved a lot to get the situation back under control.
Just make sure you don't make the same mistakes that led to this crisis.
Be aware that you are strong, but also make mistakes yourself.
You must channel your inner reserves to prevent a cycle forming. Often we repeat our mistakes as if we are on a wheel. But not you, not this time. Your tarot helps show you what you already suspected to be the truth.
Find out more with your Psychic Love Tarot Reading.
You have a birthright on a decent life. You should not be treated badly. And your desires can be made reality. 
If you feel like you're being lied to and treated dishonestly right now, remember, there might be something to it.
But now is NOT the time to go into battle but instead bide your time, and consider your own needs.
Confrontation is inadvisable now. It's better to wait and see.
So avoid endless discussion with him and no "educational measures" or other attempts. Be wise and recognise that at the moment this energy is not available to you.
At the moment this energy is not available to you.
Timing is everything.
Just hang on a little while. This will make everything much easier. 
A psychic reading, including tarot, gives deep guidance. It helps illuminate clear paths and unseen possibilities. With this knowledge, you can make better, informed choices. It brings clarity to doubts and aids in decision-making.
Make use of the following offers:
Tarot Princess Nindera's help is always available.
Be careful and test your heart before you trust anyone. Put yourself first as strong women always do.
You probably always feel very tired and have to deal with disappointments and delays.
Well, just remember this: you don't have to fight your way through it. It would be better to take a break from it all now.
You need some distance to take you out of the game for a few days or even longer is probably better.
The longer you can stay away, the more insight, strength and perspective you gain.
Treat yourself to a very special moment, relax and do things that you enjoy.
Here is the honest advice of the Princess Tarot for free. Get 10 Minute of Psychic Reading.
You've come to this new card reading line to see into the future. You want to find out more about your fate. Trust your intuition. If you live with your partner, you're probably dealing with a relationship crisis.
Now may be the time to put them to the test. Do this alone for the time being.
Ask yourself questions like:
Is this man good for me?
Is he the one?
Do I want to live with him?
Take a good look.
Has he changed lately?
Is he acting weird?
Is he doing something he hasn't done before?That could indicate he's not being honest with you.
This change may be out of shame or shyness, but it may also be on purpose.
Be careful and go your own way confidently. Don't let yourself be used and say "no" if you mean no.
Men love strong women, as then they don't always have to show strength.
Your probable future interpreted by the psychic readings of the Nindera Tarot Card.
If you've only just met someone, then protect your heart.
Get to know more and pull the One Card Tarot in an accurate reading now.
These days you're particularly vulnerable to falling for energy vampires and heart thieves.
Don't rush things and don't agree to long-term arrangements.
The promise of marriage and eternal love right now just makes you unhappy. Time will bring truth and more security. There is no rush. Love cannot blossom without nurturing so slow down. 
You have time. Even as you read these words, slow your heartbeat down and breathe in deeply. Now read on.
Don't exert pressure, be vigilant and you will see what to do at the right time.
If you're separated and your ex isn't with you anymore, think deeply about the situation.
Do you really want him back?
Do you want everything to be just the way it was?
Ask yourself honestly why did you break up?
Now is the time for brutal honesty. Only you have this power to understand yourself, your past and even the tarot.
Be your own protector and ask Princess Nindera for her help and support.
She won't disappoint you.
Look again at her tarot card above.
She is alone, but she goes her way confidently.
She recognizes the stumbling blocks at every turn.
She is also aware of the storm, but she is prepared.
She is your support on your way to more happiness in love.
Turn to her and open your heart to her loving, powerful energy.
You don't have to do everything yourself.
Talking to a fortune-teller can make you feel a lot calmer and your decisions feel  easier.
You too deserve a sympathetic conversation and an open ear from an experienced tarot card reader. 
Good times could be ahead.
But good preparation is crucial.
Find out about the best preparation before getting a tarot reading here.
Free offers are available on many new online portals.
Free minutes make it easier for you to start your consultation via an esoteric line.
Maybe right now it's what would help you the most. 
Draw another Free Tarot Card now.
Find out more about the secrets of your Life. A Psychic Reading can show you a lot of unknown information.
I wish you the best, your Tarot Prince.