Welcome to your Business Tarot Spread.
Yes, you guessed it, tarot cards are so much more than just for love affairs and looking into the future.
They also cover finance and business questions. 
How to start business and getting the best ideas on which business to do. 
How to get the best ideas, names, making a plan to start and even questions on strategy and marketing.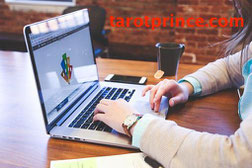 They are absolute and infinite.
Thus these cards can be used for literally any problems, life situations and personal doubts we may experience. They really do run the gamut of human concerns and preoccupations.
Yes or No Tarot answers burning questions.
Having a tarot reading about your business makes total sense and is a great option for self enhancement, for honing your skills and to promote your business interests.
The accurate insights which this recognized medium brings will guide you in the choices that you need to make.
It can even provide specific situational descriptions so that can feel reassured that you are on the right path.
These 3 cards are often interpreted differently depending on the reader:
some explore the possibilities, your situation and also your ambitions whilst others do the traditional past, present and future angles on the triple draw.
These types of readings are reliable and relatively quick, hence their popularity.  
You can also ask the following types of questions:
Are there any particular challenges that I must face?
Are there any hidden possibilities or promotions I am not aware of?
Can I thrive in this economic environment and reach my full potential?
Will my past behaviors hold me back?
Can I learn any lessons from my current situation which will aid my financial success?
What should I do right now to grow my business?
Are there any options and / or resources which I may have overlooked.
A business tarot spread, ultimately, can evaluate your potential chances and are also well disposed to finding you the 'right' name, strategy or help you start a new business.
This Tarot Spread for Business is exciting stuff
Using this tarot spread will clear your obstacles of self-doubt which may be blocking your way forward.
How to succeed need no longer be a riddle. We often are the ones holding ourselves back.
This energy blockage needs to be released so you can fulfill your true potential.
Have you had difficulty in succeeding in business?
Make use of a online Psychic Chat no Credit Card needed.
Then a good reading can guide you wisely. We all need help in our professional careers and know that many famous business people seek guidance on a daily basis.
There is no topic this medium cannot be applied to, the possibilities are infinite. 
Now, the 3 Card Tarot Spread is a tried and tested popular method.  
It will aid you to explore your business options, look at past problems or patterns, assess your current situation, flag up any particular challenges and also pinpoint future opportunities.
This type of Tarot Spread is insightful and can influence your set of business priorities
It will encourage you to use your higher wisdom, we all have it within but for some of us we experience blockages and cannot therefore access it easily.
But don't worry, your business questions will be answered.
So if you want to know where you should go next or whether to change your career entirely, you will be illuminated. 
You will learn how to lead by positive action. Any inertia will be resolved so that you are able to forge ahead with your aims. Worry not.
You are in the right place. Latin Tarot Spread is a proven method used all around the world as we speak.
Business leaders, entrepreneurs, politicians, and many exceptional individuals in the limelight have all used business tarot spread to steer their careers.
More advice with Latin Tarot here.